I recently have become the owner of a drone…the DJI Mavic Air 2! This is my first drone, and I have to say I am impressed. So far, its ease of use and maneuverability along with the fantastic photo and video quality have made my first drone experience a great one. Since getting a drone, I have taken a remote pilot course (remotepilot101.com) and passed the Part 107 Knowledge exam to become an FAA Part 107 Remote Pilot. I recommend anyone who is going to be flying a drone to take a course and receive their remote pilot certification. When flying our drones, we need to stay safe and follow the FAA guidelines and regulations.
Overview
The Mavic Air 2 is one of DJI's newest additions to their already incredible lineup of drones. The Mavic Air 2 comes in at 570g (1.25lbs) and can fold up to be compact and stow away in a backpack. Perfect for traveling! Below you can see the physical specifications of the Mavic Air 2 in the table.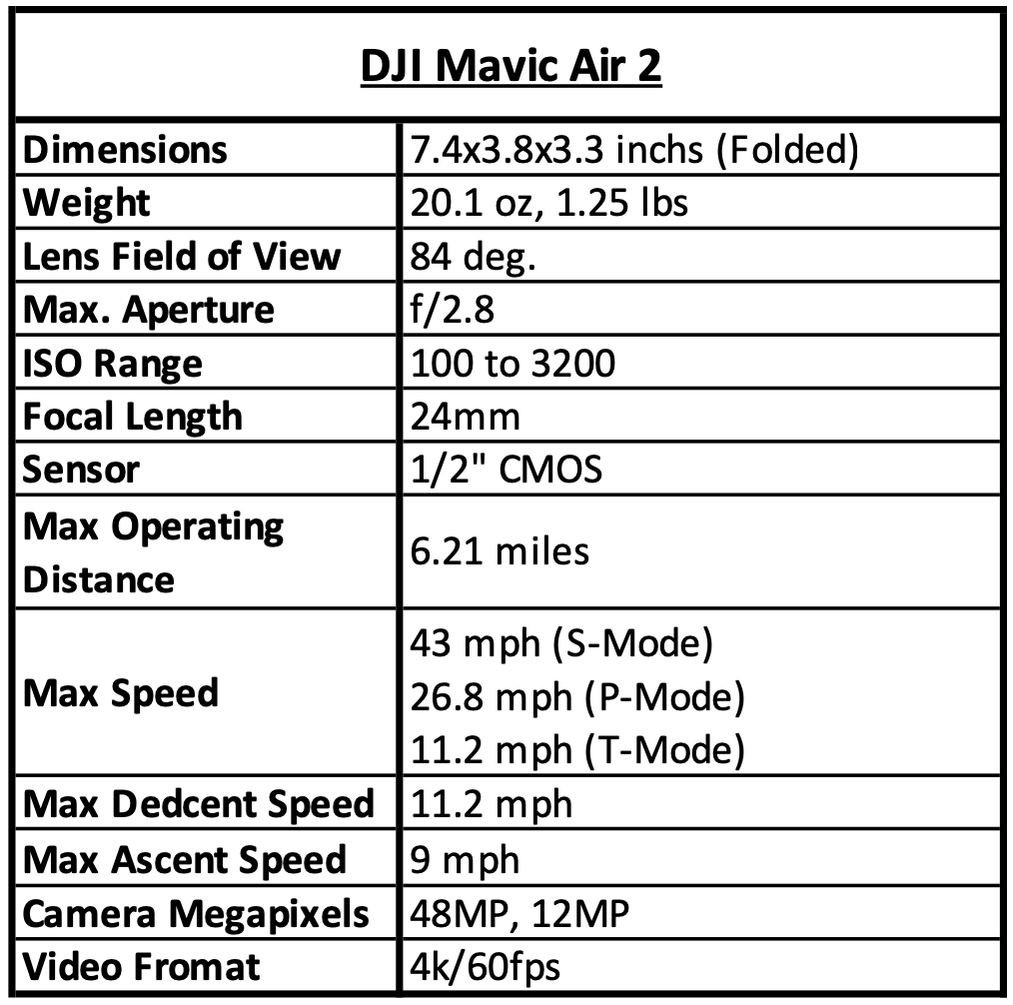 The camera gimbal allows for 3 axis stabilization and provides fantastic stability for video and longer exposure photos. The gimbal also allows for changing out of filters. This comes in handy when shooting in extreme light or when needing some long exposure times. The Fly More Combo comes with 3 ND filters (ND16/64/256). It is a little tedious changing the filters out. You have to be careful not to damage the gimbal. The rotor arms fold in and out easily but not so easily that they would feel insecure. There is a slot on one side of the drone body for the micro SD card, and there is a port on the other side to allow for a direct USB-C connection. The Mavic Air 2 retails for $799 or $988 with the Fly More Combo (which I highly recommend). I had originally wanted to buy the Mavic Mini but decided to upgrade for the camera and video features. So far I am glad I did.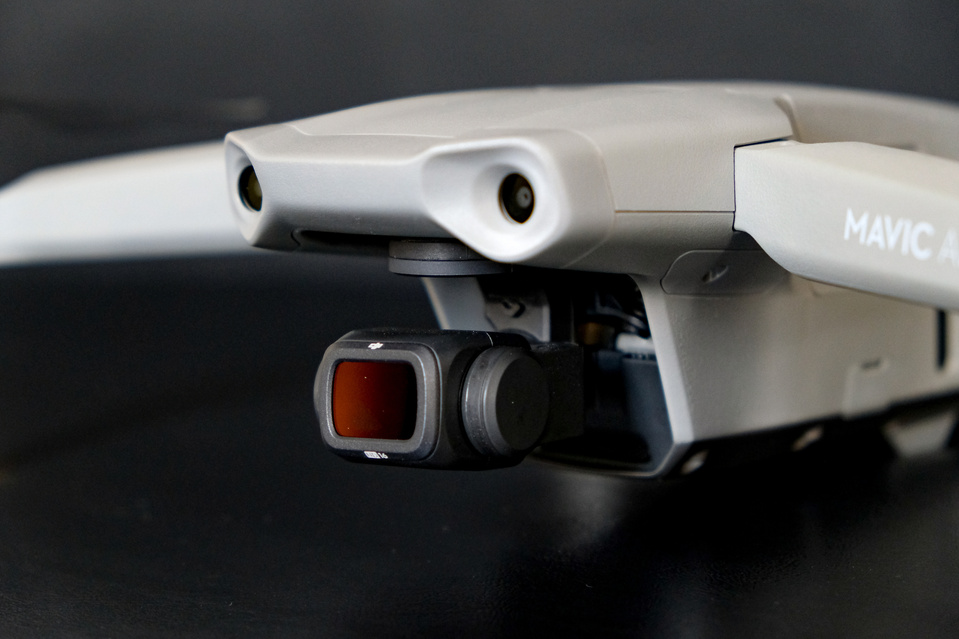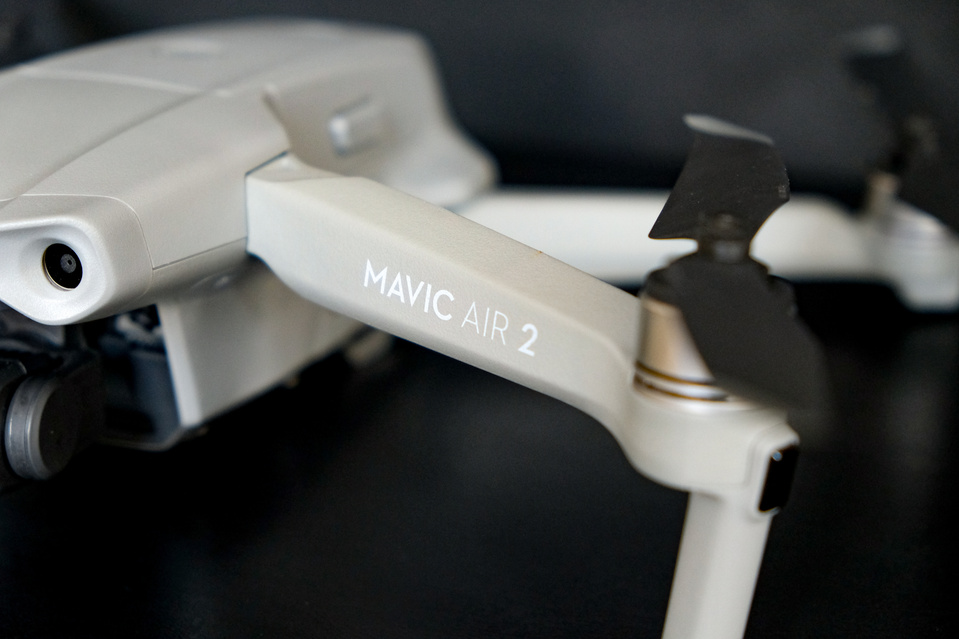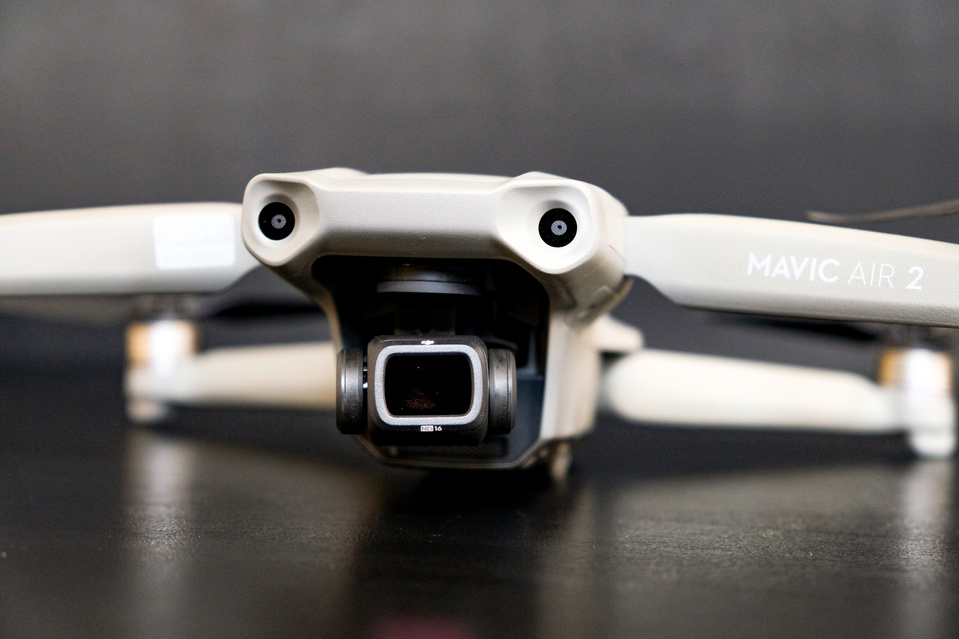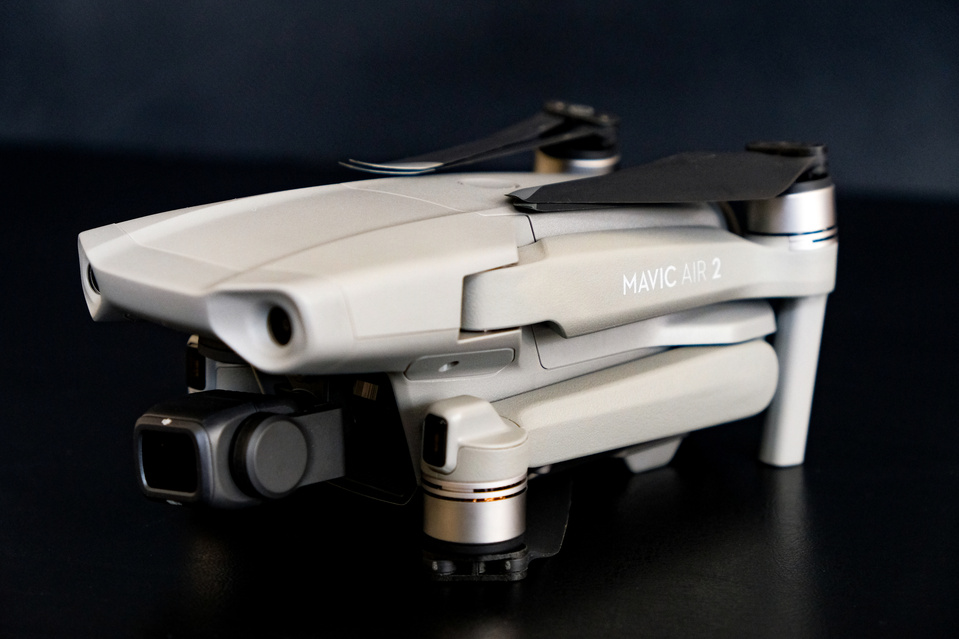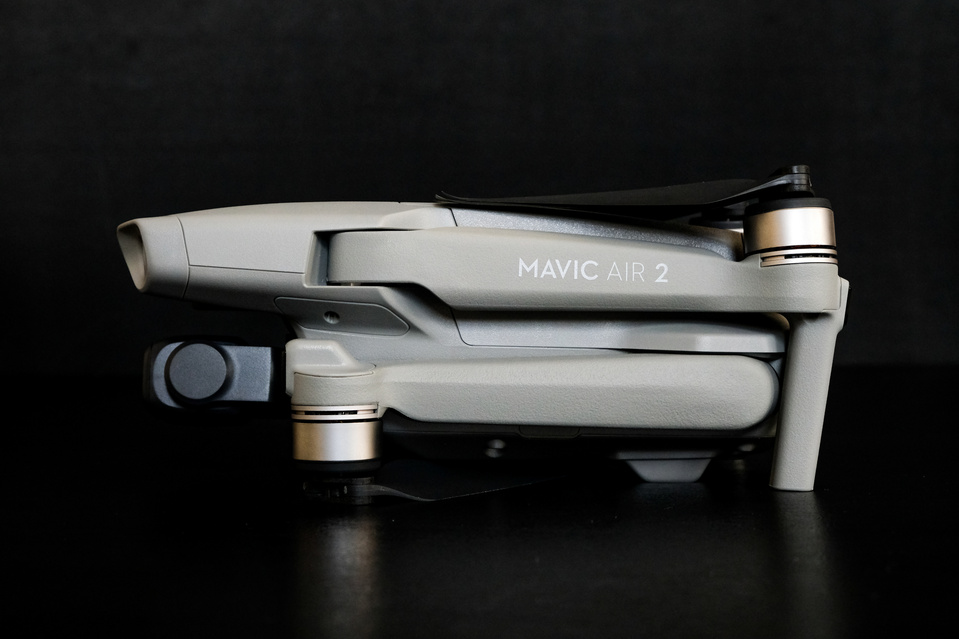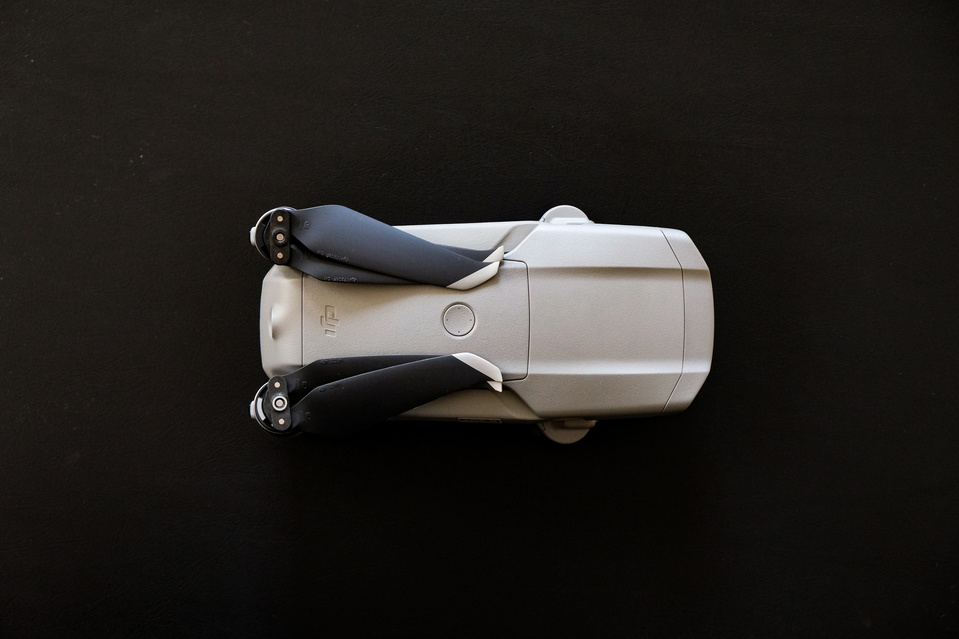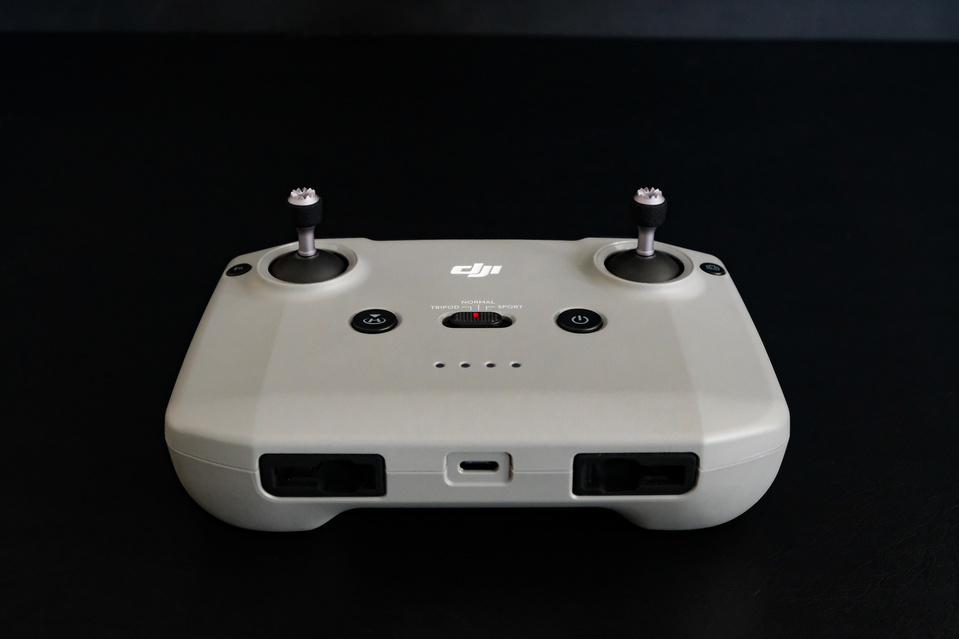 Flight

This being my first drone, I didn't really know what to expect. I had never really flown one, but this drone was very easy to pick up. The controls are very responsive and tight feeling. I have never felt like the drone was out of control or that I couldn't get it to fly where I needed it. There are three modes that the drone can be put in for flight: Normal Mode, Tripod Mode, and Sport Mode. Each are exactly what you would think. Tripod mode is very smooth and prevents the drone from jerking or moving too quickly. It feels like the drone is in slow-motion with a max speed of 11.2 mph. Sport mode is the exact opposite with speed and sensitivity to controls increased. Sport mode is extremely fun to fly in and has a max speed of 43 mph. Normal mode feels in-between the other two modes with just the right amount of responsiveness and speed so you don't ever feel out of control. Normal mode has the right amount of sensitivity to fly the drone precisely and has a max speed of 26.8 mph.
The specified battery life of the Mavic Air 2 states that each battery allows for about 34 minutes of flight time. I have found this to be pretty accurate. Of course, the more crazy maneuvers you perform or longer you operate it in sport mode the less time you will have. I recommend the Fly More Combo when you go to purchase the drone. It is worth it just for the extra 2 batteries alone. The Mavic Air 2 also has obstacle detection in 3 directions using the APAS 3.0 (Advanced Pilot Assistance Systems) detection system. There are downward, forward, and backwards sensors to help with avoiding obstacles and give beginners (like me) a little more of a safety net.
Overall, this drone is extremely easy to fly and has been great for a beginner like me. I had my wife fly it as well (she too had never flown a drone), and it seemed to come natural to her as well.
Photo Quality
The Mavic Air 2 boasts a 1/2" CMOS sensor and has the capability to take 12mp and 48mp photos. The 48mp photos have some restrictions on some of the smart features that the drone offers. Some of the photo features that the Mavic Air 2 includes is Smart Photo, HDR, HDR Panorama, and Auto-Exposure Bracketing (AEB). Most of these smart features are only available for the 12 mp photos, but with the 48mp photos you can edit them a little more to reach your desired look or feel.
I recently took the drone to White Rock Lake in Dallas, Texas, and took some photos of a sunset. I took both 12mp and 48mp. You can see the differences in the shots below. The 48mp shots are more sharp and detailed but do not have as wide of a view as the 12mp photos. I have edited each the same way in Lightroom. So far, I am very happy with the quality of the photos. The DJI Fly app allows you to shoot in manual mode as well. You can adjust the ISO, shutter speed, and aperture.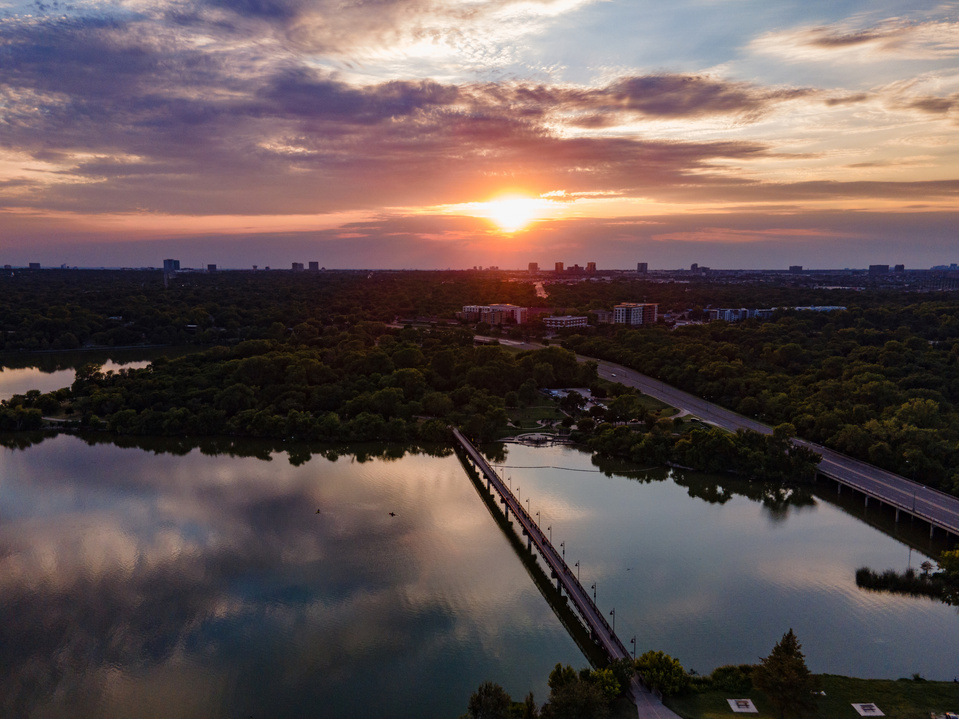 I will primarily be using the drone for architectural photography. Below you can see an example of a new hospital I recently shot. You can see the difference between the 12mp and 48mp. Due to the superb photo quality, ease of use, and the price point, I think this drone is great for photographers trying to get into aerial photography! I am excited to get out and fly more!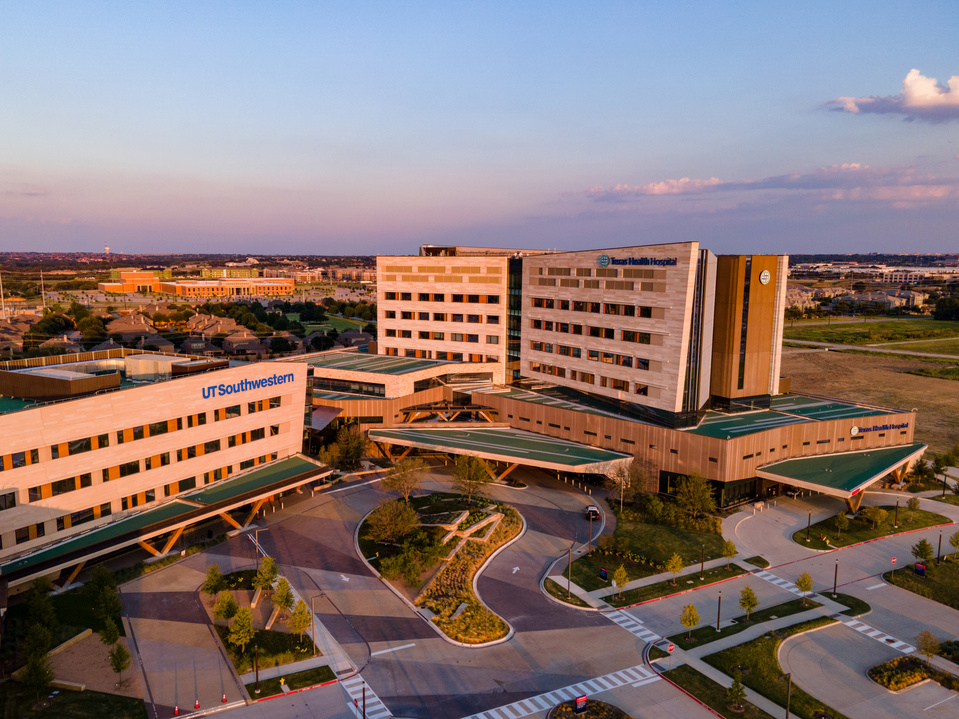 Video Quality
I have never really dove into the world of video before owning this drone. I have a feeling I'll be putting together some more videos in the near future. The Mavic Air 2 is capable of 4k video at 60fps and there are multiple features when it comes to video on the Mavic Air 2. Within the DJI Fly app, you can chose from an array of what they call "Quick shots". These allow you to lock on to a subject and have the drone fly in a flight pattern with the subject locked in the center.
There are six quick shots:
Dronie - locks onto a subject and then flies away straight.
Circle - Locks onto a subject and then flies in a circle around the subject at a set distance.
Helix - Locks onto a subject and then flies away in a circle with each pass getting further and further away.
Rocket - Locks onto a subject and flies straight up form the subject
Boomerang - Locks onto a subject and flies away and then back towards the subject while circling it at the same time
Asteroid - Locks onto a subject and then very quickly flys straight up.
I have tried a few of them so far, and it was very easy to lock a subject and get a cool cinematic effect from these quick shots.
The Mavic Air 2 can also shoot a hyperlapse with four different modes to choose from. I have not tried one of these yet, but once I do I will update this post with more info on it.
Free - Allows the pilot to freely move while the drone snaps shots
Circle - Lock onto a subject and have the drone circle the subject while continuously shooting footage.
Course - This mode locks the gimbal onto a subject and keeps the subject in frame while the pilot flys towards and past it.
WayPoint - The pilot can set a specific route prior to flight (5 points max)
Below is a quick couple of videos I made while at White Rock Lake and then a second one at Lake Lewisville by exporting the 4k video to iMovie.
DJI Fly App

The DJI Fly app includes some great features for the Mavic Air 2. From this app you not only can see what your drone's camera can see, but also you can see the altitude, distance traveled, speed, and control the different features available for your drone. The app will also give you warning and advisories for an area. Not that you should rely on this because you should be doing your homework before flying your drone in an area, but it is nice to have just in case. I have heard that the DJI Fly app lacks some of the features that are available for some of their other drones, but considering this drone is half the price of some of their other professional drones this would be expected. Because I haven't tried those other drones, I suppose I don't know what I'm missing, but so far I haven't been disappointed.
Summary
I have thoroughly enjoyed flying this drone, and I think it will allow me to be more creative with photography and now video in the future. I highly recommend this drone to anyone looking to get into aerial photography. It doesn't have every feature that the more expensive DJI drones have, but it is definitely not lacking in features either. Keep a lookout on my instagram for some aerial shots! Please comment below and let me know your thoughts!